Transform your RAD Climbing Triangle into a versatile workstation with the DeskEasel attachment. On one side an adjustable height desk and the ability to pair with any RAD stool or chair make it perfect for drawing, painting, writing, and imaginative play.  The other side turns your climbing triangle into an Easel!
Regular price
Sale price
$155.00
Unit price
per
Sale
Sold out
Ships from our wood shop in 3-5 Days
Share
View full details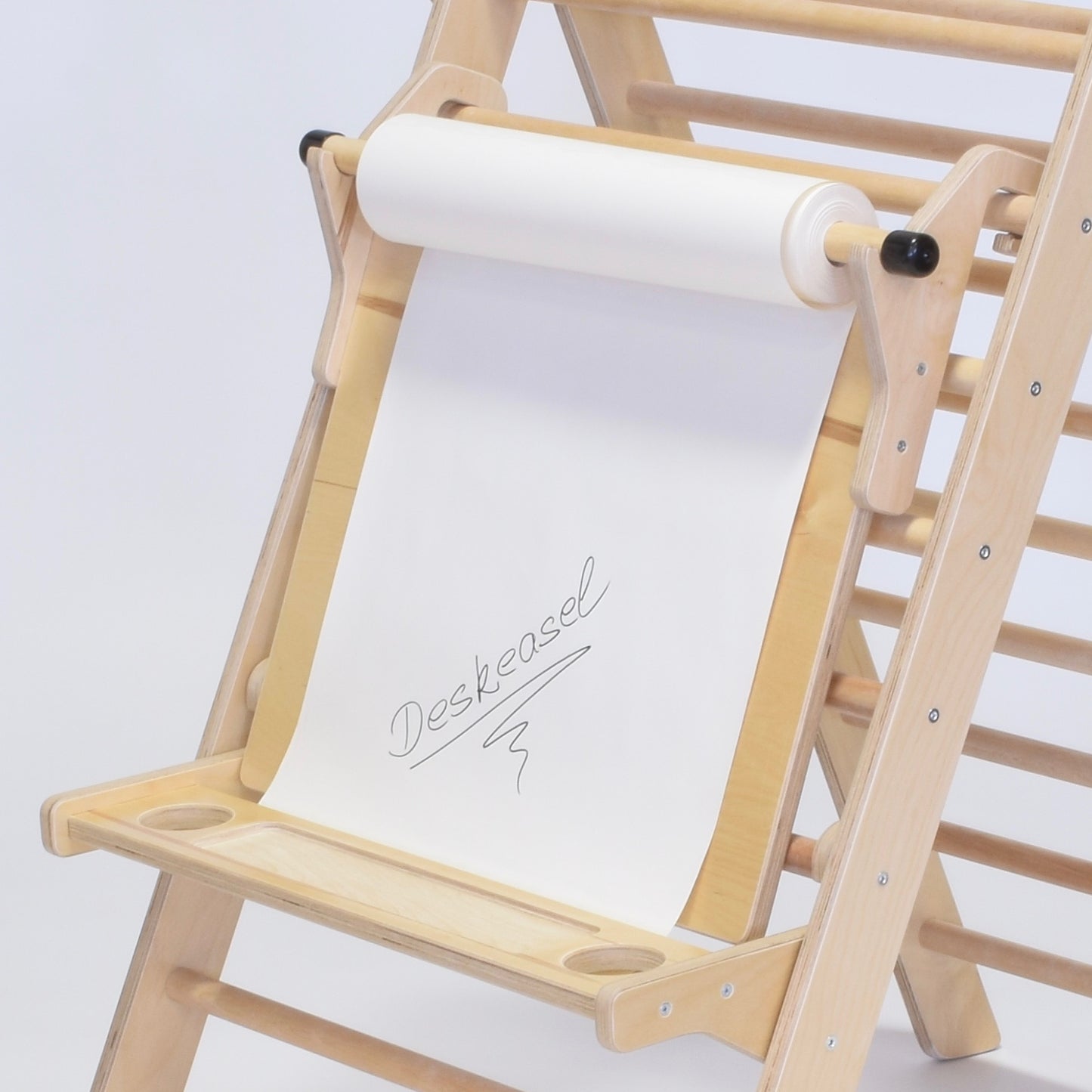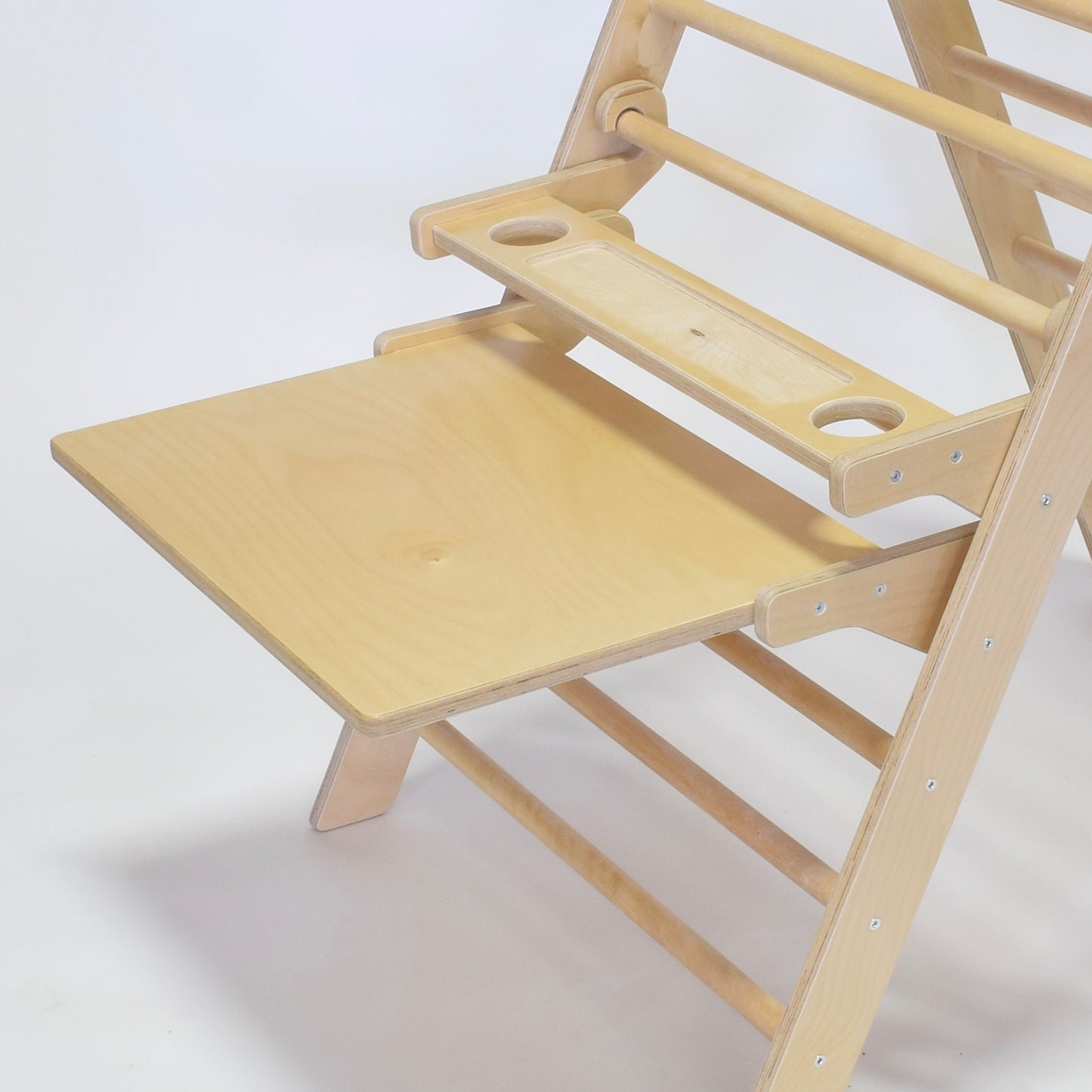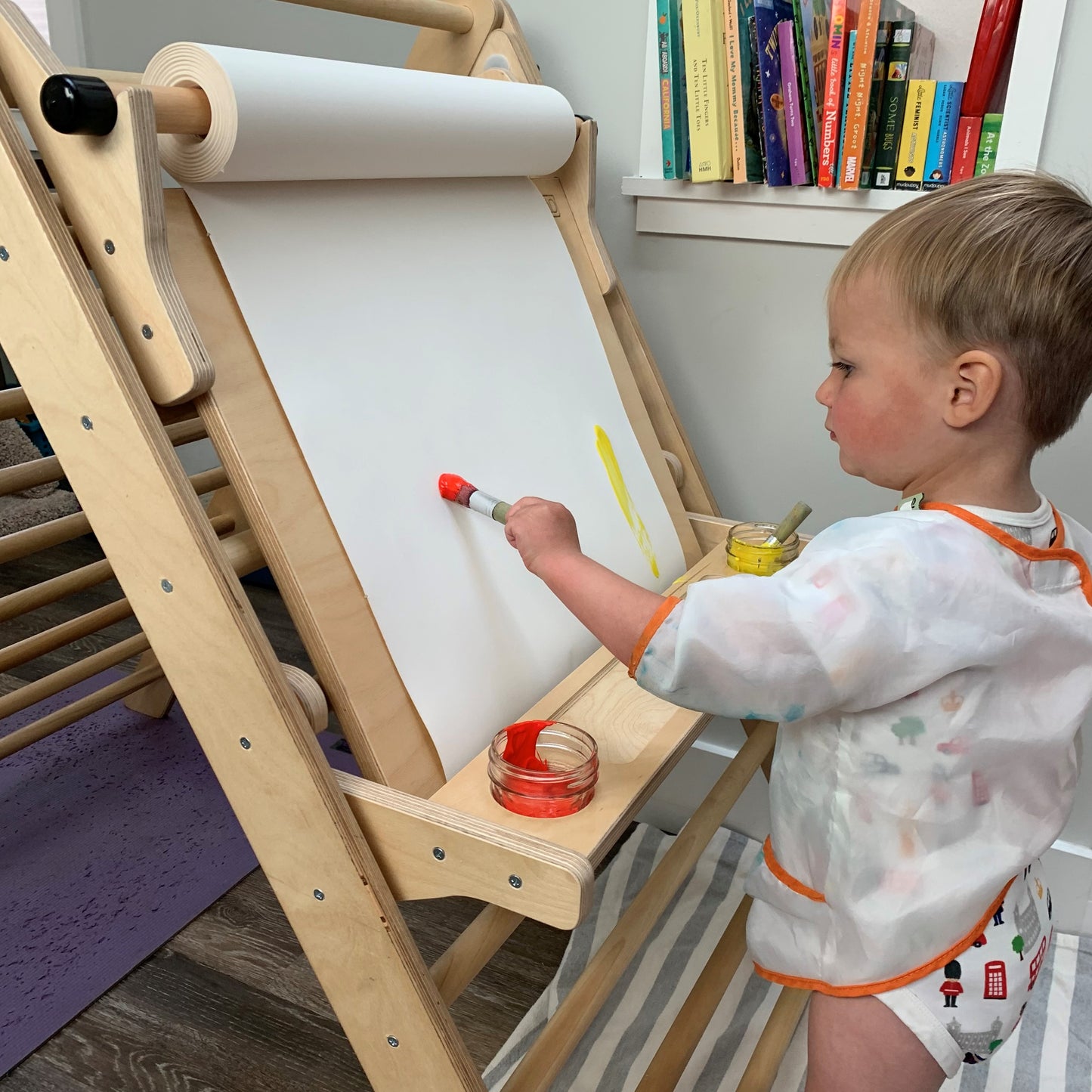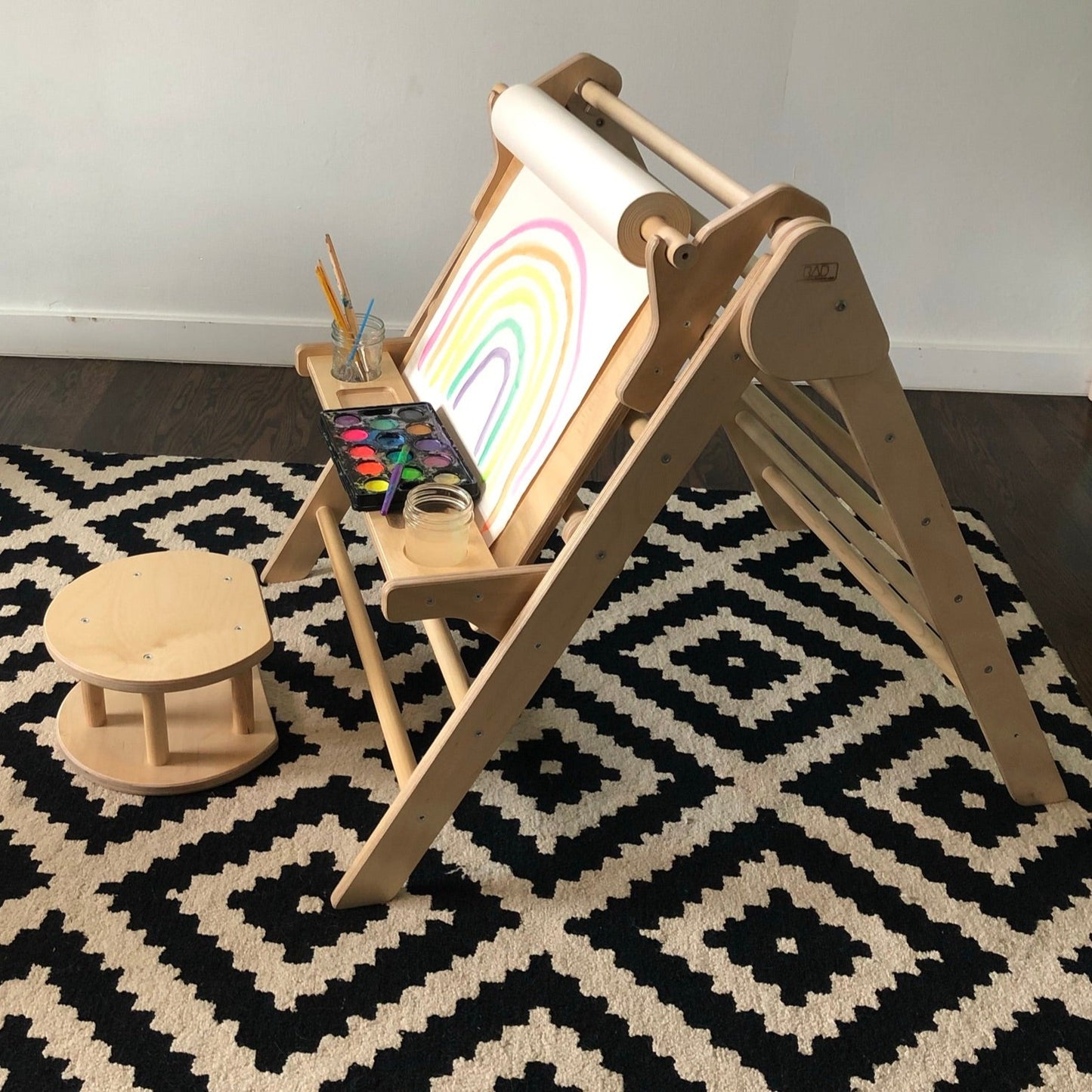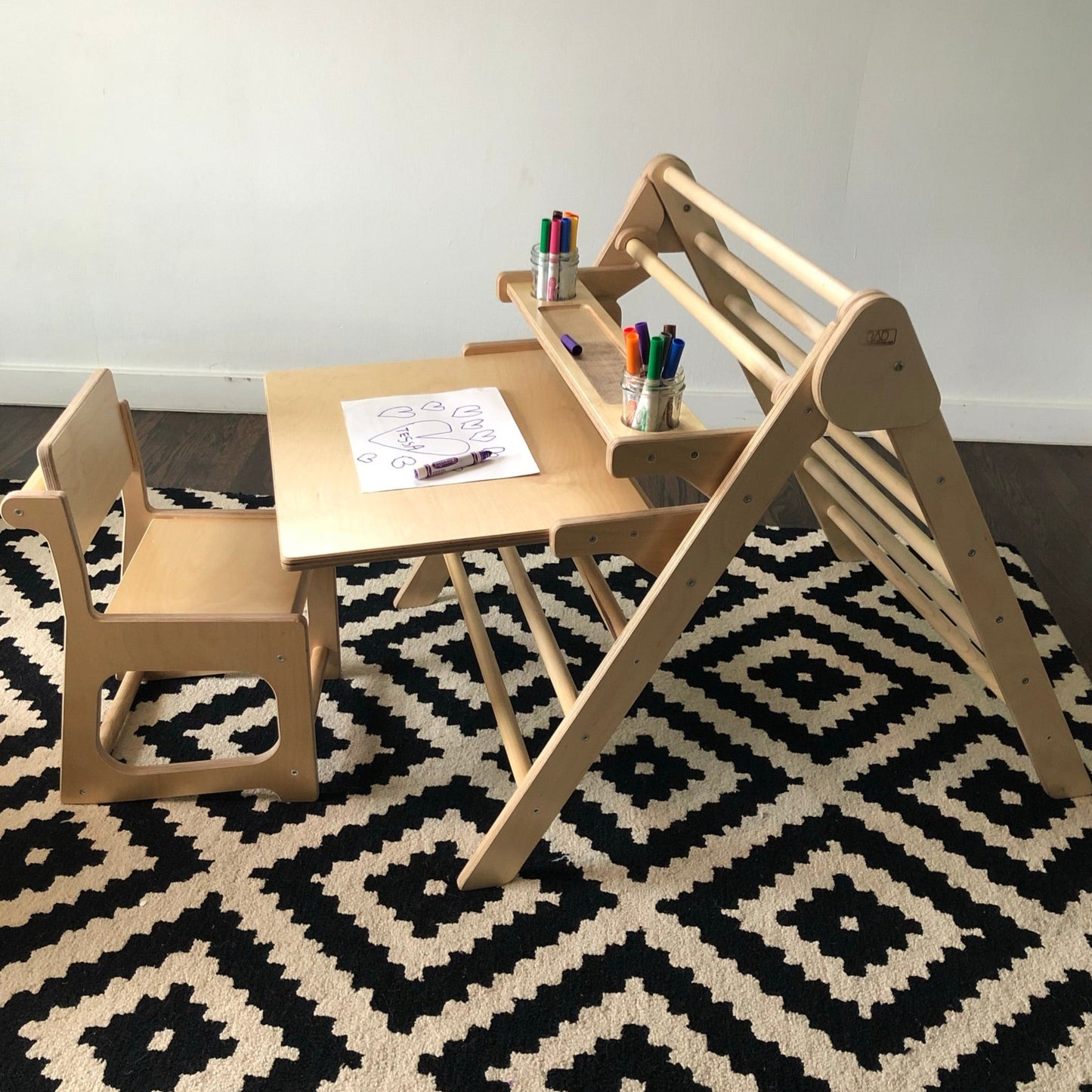 Small Hands Make Large Creations
Description

Drawing, painting, playing and writing are done on a desk of this unique addition to your child's home, classroom or play area. The same desk is easily repositioned into an easel, ready for finger painting, coloring, drawing, sketching and painting.

One of the features of the RAD DeskEasel is that height can be adjusted and the workstation can be paired with any RAD stool or chair, including the Montessori-inspired Skoolhaus Chair.

The difference in sizes is reference to which RAD Climbing Triangle the DeskEasel mounting brackets are compatible with:
*Large DeskEasel fits on the Pikler® Triangle*
*Jumbo DeskEasel fits on our Jumbo Climbing Triangle.*
*Legacy DeskEasel fits on all RAD Climbing Triangles manufactured prior to Winter 2020.*

Or, if you are still unsure or want us to take the thinking out of ordering, email us a picture of your RAD triangle to info@radchildrensfurniture.com.

Note: This is for children who are old enough to differentiate between furniture and climbing structure. The Triangle is not intended to be used for climbing when DeskEasel is in place.

Although our products are crafted to encourage exploration and free-form play, please never leave your child unattended to avoid injury.
Dimensions

DeskEasel: 22"(L) x 16.5" (W)
Accessory Shelf: 23.5"(L) x 4.5"(W)
Materials

Made from 13-ply Sustainable Formaldehyde-free Euro Birch which is both durable and attractive.

Sealed with a Zero VOC UV cured finish.

Some parts such as rungs and table legs are solid hardwood.
Shipping

Shipping estimates are when an item will ship. In general, domestic shipments are in transit for 2 - 7 days.

Contiguous USA: Free Shipping on all orders

Los Angeles: Save on shipping and receive free assembly when you pick up from our shop

Hawaii and Alaska: Shipping calculated at checkout

The Rest of the World: Shipping, import duties and taxes calculated at checkout
Note that import duties and taxes will be paid when your order is placed. There will be no additional charges upon receipt of your package!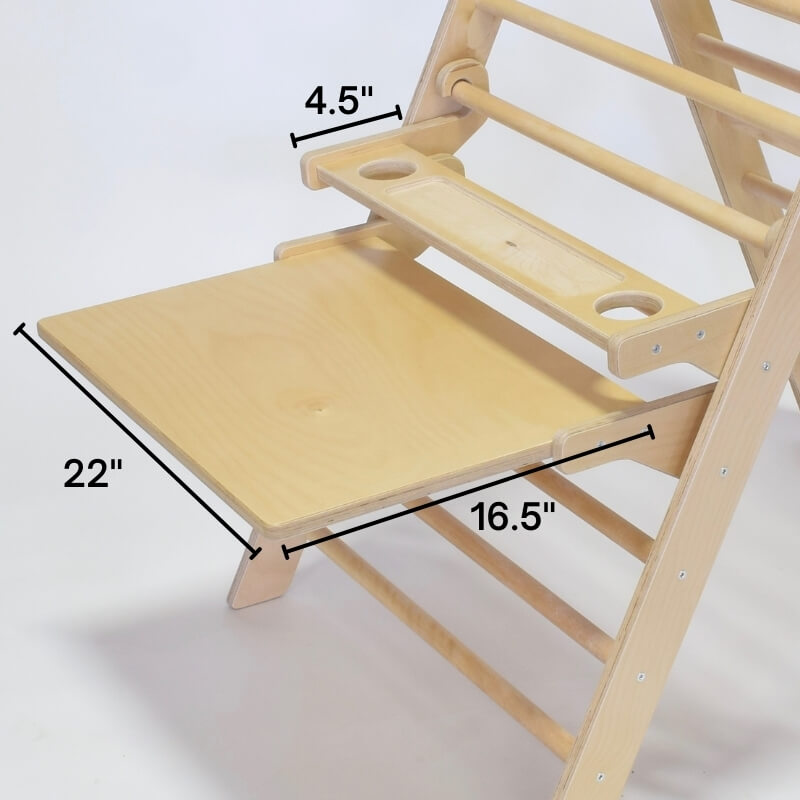 ➊ Suitably aged for 2.5 to 6 years old
➋ RAD design, sturdy construction, attention to detail and quality of material ensure safe use
➌ Fits with any RAD Climbing Triangle
➍ Transforms the Triangle into a Desk OR an Easel
➎ Accessory Shelf for drawing utensils
➏ 90' Paper Roll included
➐ Easy to clean surfaces
➑ Handmade in our shop
➒ Ships unassembled. Electric drill recommended
Why RAD?
Made in USA

Ethical products start with responsible manufacturing.


Learn more about our company...

Fostering Growth

Our products are based on many early childhood philosophies such as Montessori, Pikler and RIE®

Nontoxic Materials

We use materials that are safe for your child and the Mother Earth.


Learn more about our materials...
Love this piece!
We purchased a jumbo Pikler from Rad Furniture a few years back and absolutely love it (so does our 20 month old)! I had been dreaming of an easel to mount to the Pikler and inquired if Rad would be interested in doing a custom order. Long story short, John was so easy to work with and communicate with and was just as excited by the idea as I was! We are over the moon with our easel, which he made in a way that it could also turn into a desk (perfect for driving cars on at the moment, my kiddos obsession), and an add on piece to hold our paints. John went above and beyond on my vision for this and I am so glad he has put it into his regular rotation of inventory so others can purchase and enjoy too!
Our Pikler is a main facet of our house and with this awesome DeskEasel combo, we have the ability to add some creative paint time to our body movement time!
Thank you so much John!
Everything We Have We Love
We have been customers of Rad for 3 years we have a lot of their items from their Picklers both regular and jumbo to their desk easel, grow stools, play cube and play tables! Everything is well made, their customer service is great and i love that they are Pickler certified. We have a small space so this desk easel was a much needed addition in our home. My son goes between mom and dad's house and we are happy he has a pickler in both homes so would never look at another brand for montessori furniture and play furniture.
Amazing Quality Furniture
Quality: The craftmanship of the furniture is amazing!
I have now bought the Prikler Triangle with ramp & added the Easel desk recently.
I introduced my daughter to the triangle when she was 10 months. Shes now two and the confidence she's gained is amazing to see. I took her to a new park the other day & there was a climbing hill - she went for it with no fear.
Price/multiple uses: you are paying for quality/durable /versatile furniture. We can use the triangle itself, with the ramp, desk or easel or place blanket over the triangle & it becomes a tent/house....
I keep telling friends and family - it's the best toy/investment I've made :).
Thanks John & team!