Enhance your child's balance and coordination with our RAD Balance Beam. Perfect for any play space or Montessori classroom, it extends over 9 feet long. Configure it into various shapes or expand it further with additional sets. Use it as a toy ramp, doll catwalk, or incorporate it into any imaginative game. Made with quality materials, this balance beam is built to support and inspire creative, active play for years to come.

Regular price
Sale price
$135.00
Unit price
per
Sale
Sold out
Ships from our wood shop in 3-4 Days
Share
View full details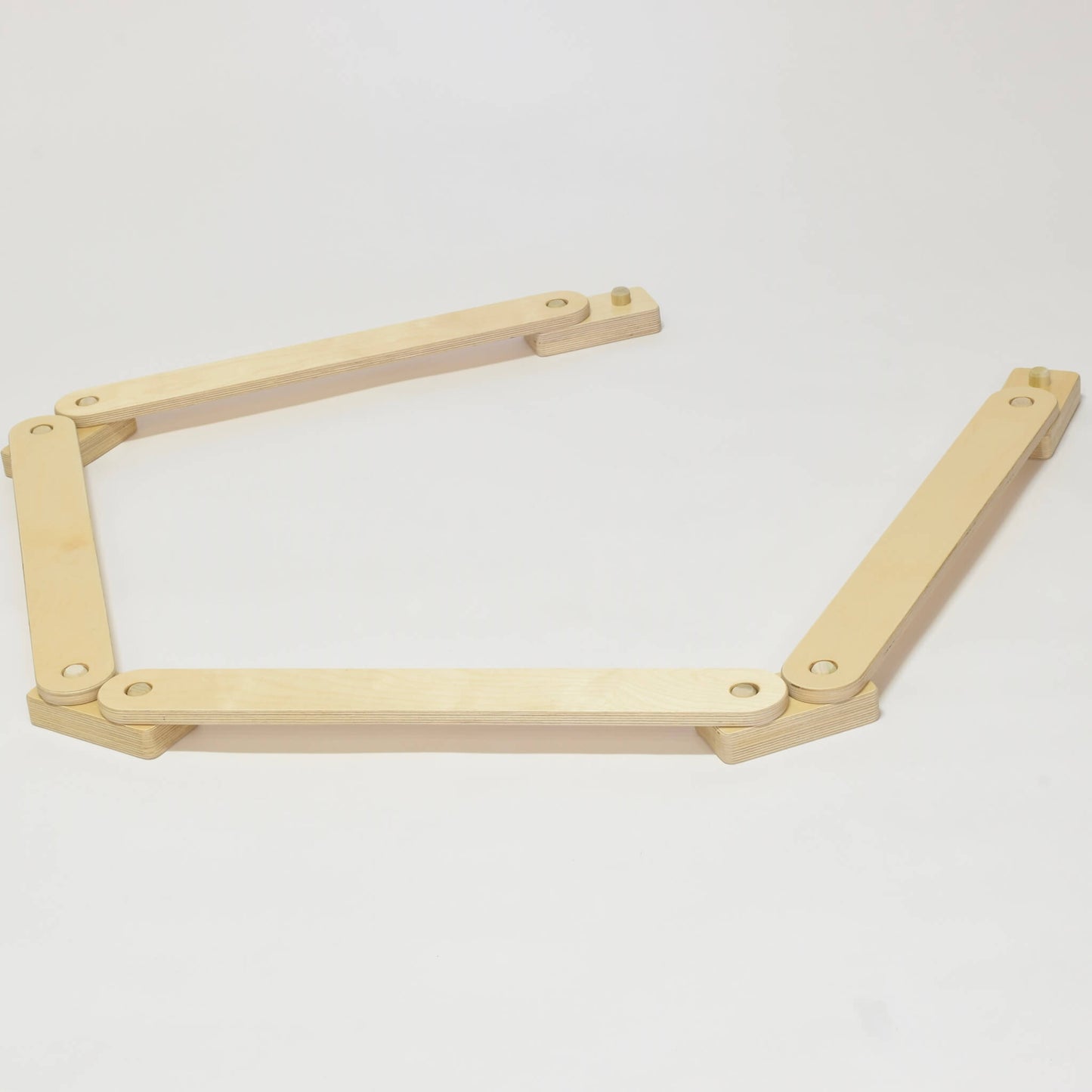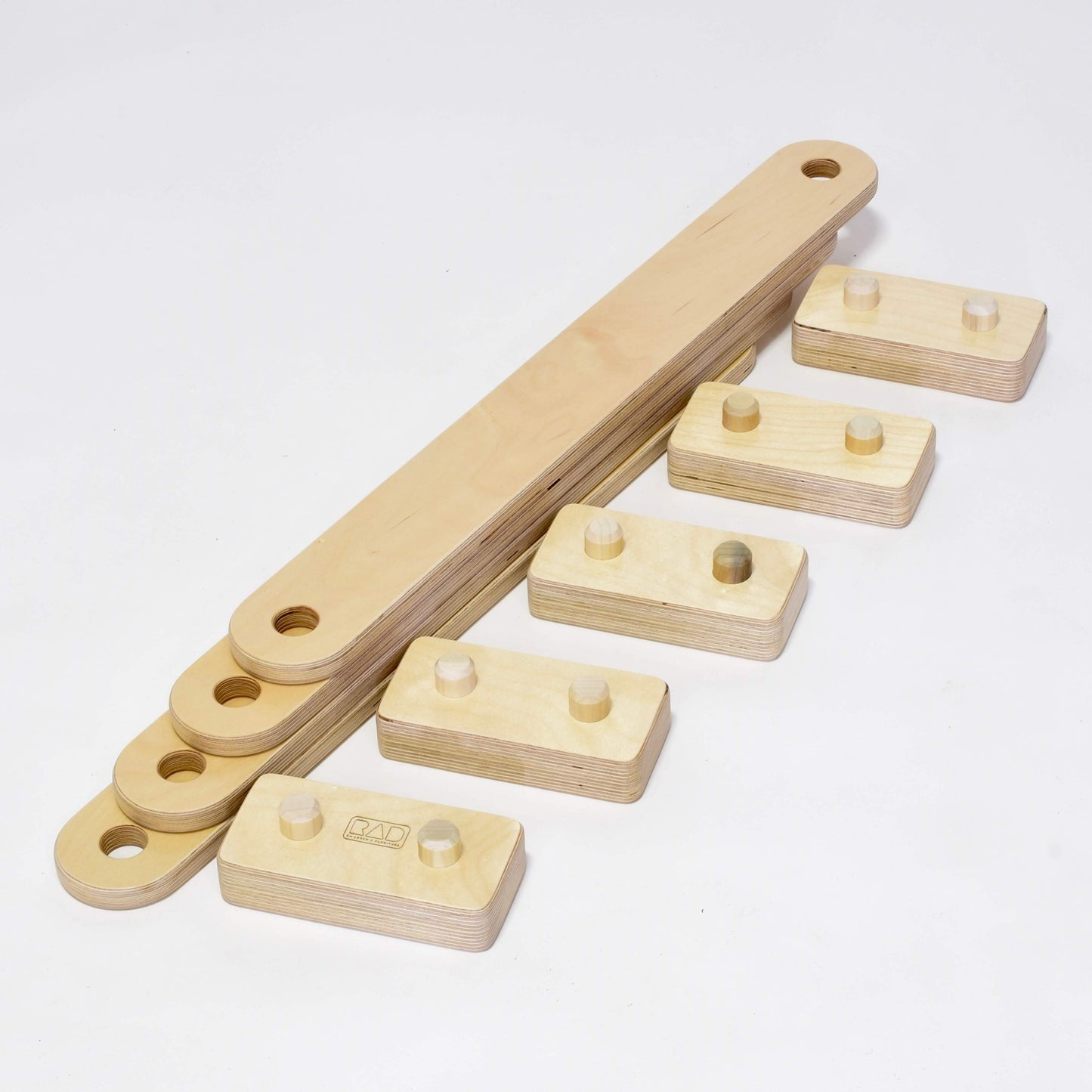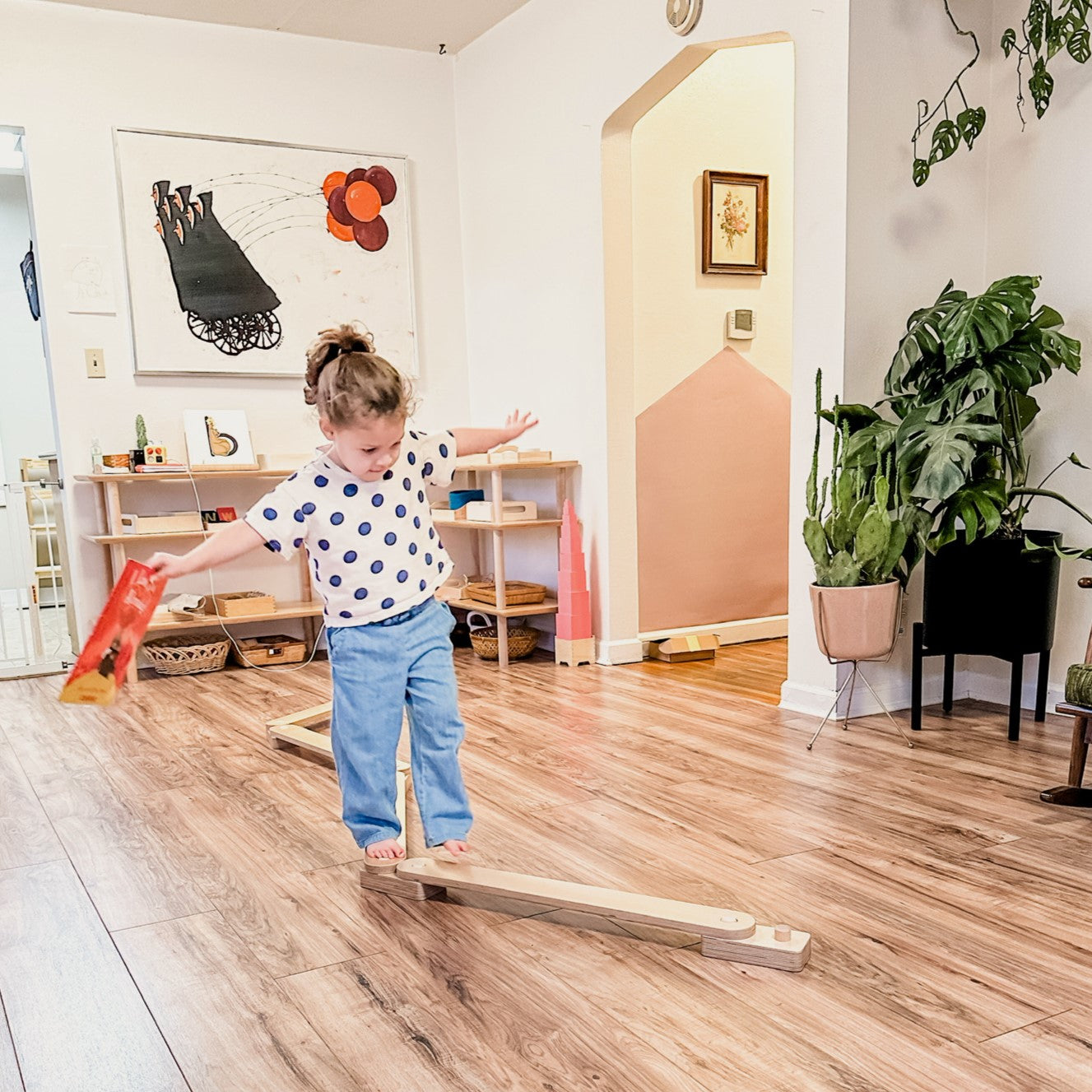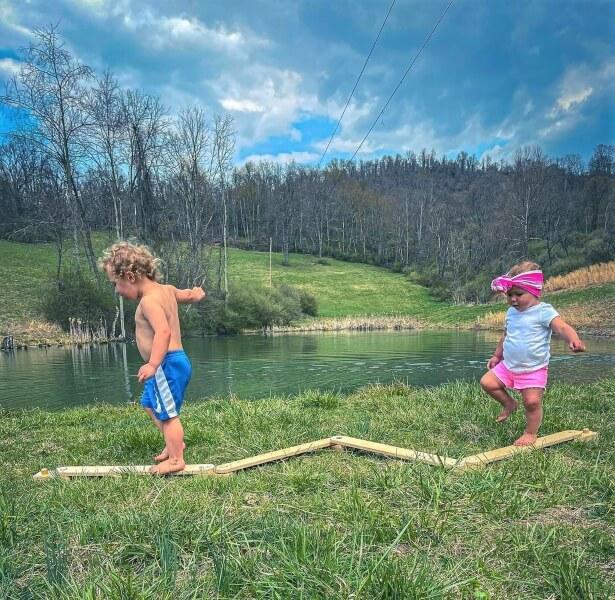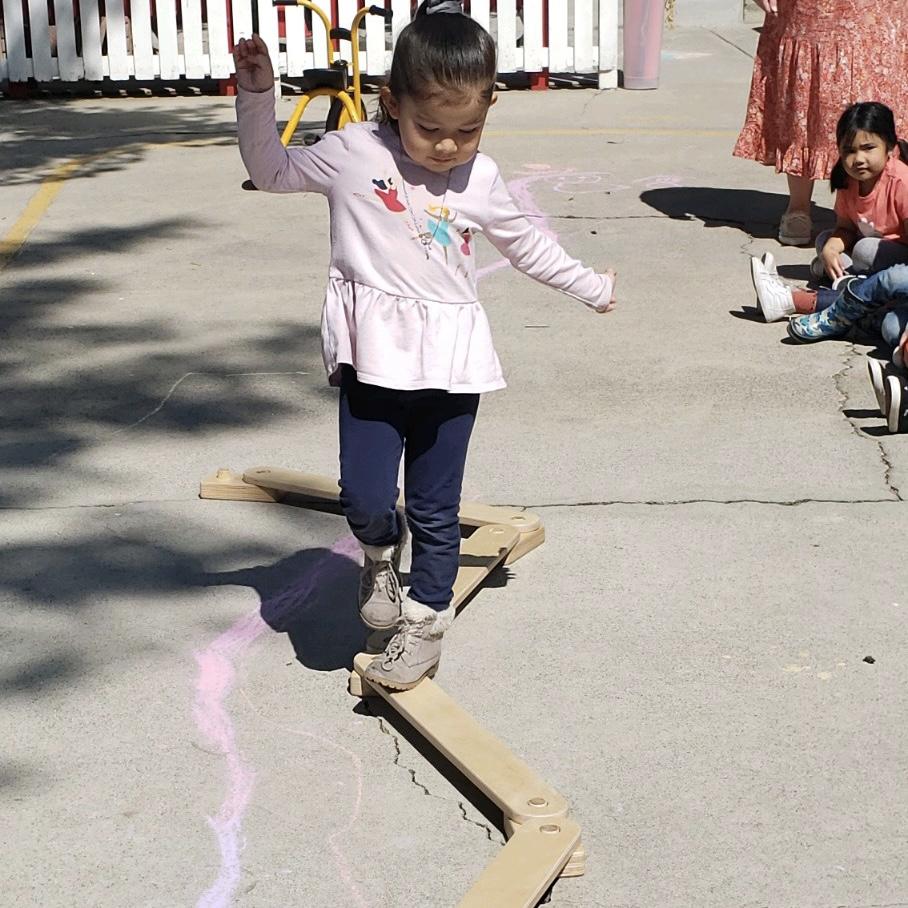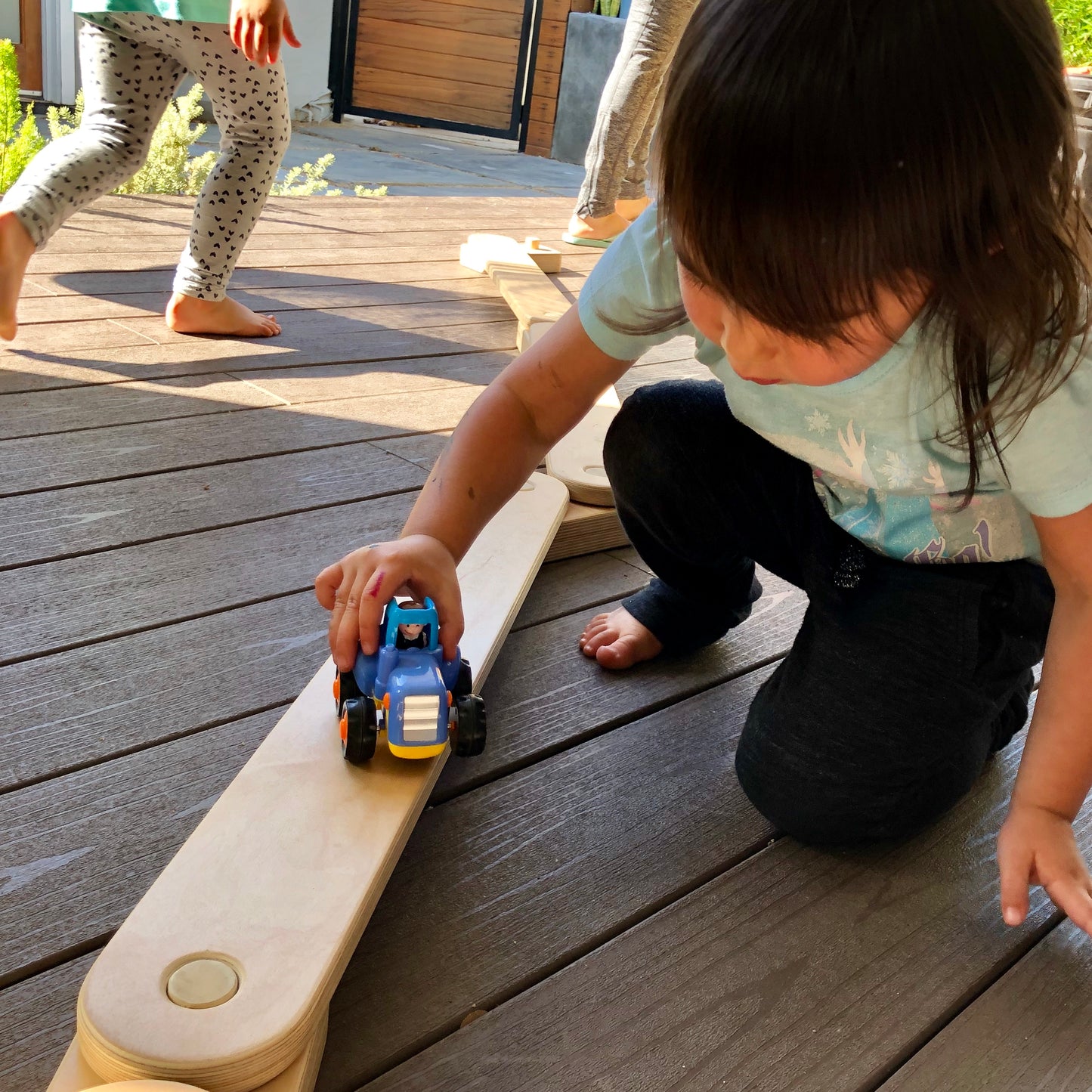 Balance is Not Something You Find, It's Something You Create
Description

Great for any play space or Montessori toddler classroom. The RAD Balance Beam promotes balance and coordination for new walkers to more confident toddlers and younger children. Practice walking on over 9 feet long Balance Beam, twist it into a variety of shapes, add more sets to make it as long as you wish. Your child will love walking across, using it as a toy ramp, limit their space, as a catwalk for their doll, or for any of their imaginative game.

Although our products are crafted to encourage exploration and free-form play, please never leave your child unattended to avoid injury.
Dimensions

Each section: 28" (L) x 3.25"(W)
Total Length: 9 feet
Total Weight: 9.5 lbs
Materials

Made from 13-ply Sustainable Formaldehyde-free Euro Birch which is both durable and attractive.

Sealed with a Zero VOC UV cured finish.

Some parts such as rungs and table legs are solid hardwood.
Shipping

Shipping estimates are when an item will ship. In general, domestic shipments are in transit for 2 - 7 days.

Contiguous USA: Free Shipping on all orders

Los Angeles: Save on shipping and receive free assembly when you pick up from our shop

Hawaii and Alaska: Shipping calculated at checkout

The Rest of the World: Shipping, import duties and taxes calculated at checkout
Note that import duties and taxes will be paid when your order is placed. There will be no additional charges upon receipt of your package!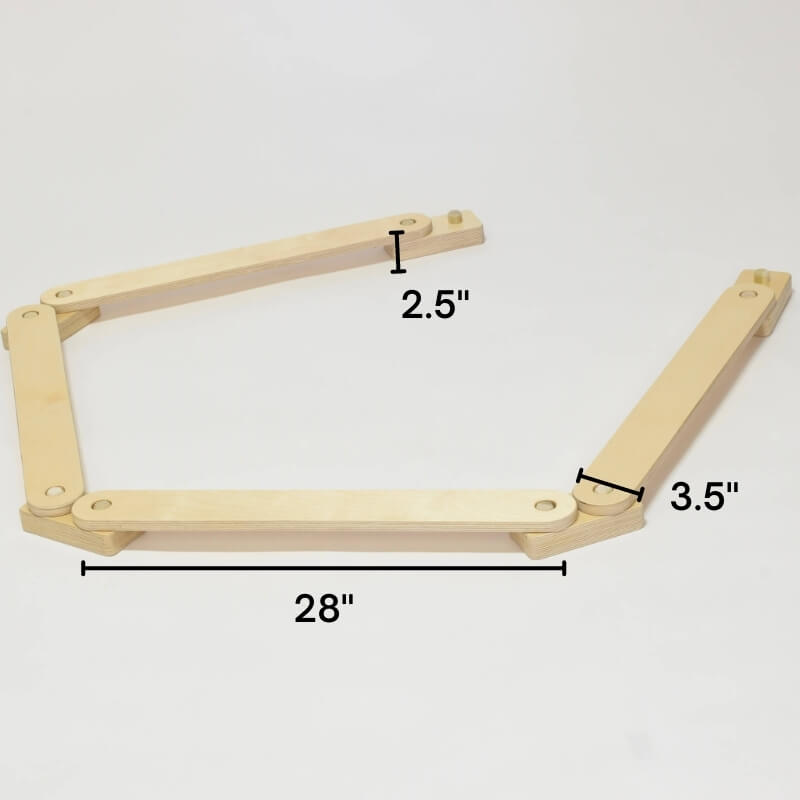 ➊ Suitably aged for walkers and older
➋ RAD design, sturdy construction, attention to detail and quality of material ensure safe use
➌ Comes with (4) beam sections and (5) connector blocks
➍ Each section is 28" long and expands to total length of 9 feet
➎ Weights 9 lbs
➏ Easily support at least 200lbs
➐ Infinitely expandable with additional sets
➑ Handmade in our shop
➒ Designed for indoor use. While it may be used outside, we cannot guarantee against prolonged exposure to moisture and UV rays.
Why RAD?
Made in USA

Ethical products start with responsible manufacturing.


Learn more about our company...

Fostering Growth

Our products are based on many early childhood philosophies such as Montessori, Pikler and RIE®

Nontoxic Materials

We use materials that are safe for your child and the Mother Earth.


Learn more about our materials...
Big puzzle!
Upon first seeing the balance beam, my little toddler baby exclaimed, "big puzzle!" and after we put that big puzzle together, I walked on it showing the use as a balance beam. Probably confused my little one, but it's now considered a big puzzle that can be walked on!
There are two slight imperfections, one of which kind of concerns me, but not very much. A portion of edging on one of the boards wasn't sanded as smoothly as the others, and a small section where it wasn't sanded smooth had a pokey piece of loose wood which I peeled away, so now it's better but not as smooth as the edges of the other boards. I am hoping the edge doesn't catch on anything causing the piece that's not flush with the board to become loose and peel away.
And of less importance, merely affecting appearance, one board has an indentation where something may have been dropped on it.
Those two minor imperfections aside, my baby and I are enjoying our new big puzzle balance beam! I was contemplating buying more boards to add to it, but four are more than enough to start out with using.
Side note: before ordering, I contacted customer service and received some of the best, thorough and kind responses I've ever received from any company, on any matter. The quality of communication made my decision to place my first order with them an easy one. Now I am planning my next order!
Thank you for the thoughtful and in depth review! We're pleased to hear that although there was some damage to your beam, that the overall experience has been an A+. :)
While we appreciate you not making a big deal of the imperfections, smooth edges are something that we pride ourselves over and we apologize for missing some on your balance beam. Please email us at info@radchildrensfurniture.com with your order number, a description of the items damaged, and any relevant photos so that we can get replacements sent out to you ASAP.
Thanks again for choosing RAD and providing us with the feedback. We appreciate you being a part of our community. Enjoy the 'big puzzle!'
Great quality & versatile
I purchased this balance beam set after I got the jumbo climbing triangle + ramp from RAD last June. I love how smooth and sturdy all their products are. Very durable and easy to clean. This beam matches perfectly with the previous products. I noticed how my toddler was having fun in many different ways. He even used them like skis all around the floor. Thank you for a great play set!
We bought this balance beam for our 3 year old for Christmas. We can't wait to enjoy it with him soon. Shipped so fast!
Excellent
Really well made — easy to put together/move/put away. We got it in conjunction with a climbing triangle and our daughter will spend hours going up, down and then around on the balance beam.