Our Changing Table promotes self-respect with a child-centered approach to diapering. Active participation in the process strengthens the caregiver-child bond, creating positive care experiences. With a high, barred fence on three sides, the Changing Table creates a safe and free space for the child to explore movement and choose their position.
Regular price
Sale price
$340.00
Unit price
per
Sale
Sold out
Ships from our wood shop in 1-2 weeks
Share
View full details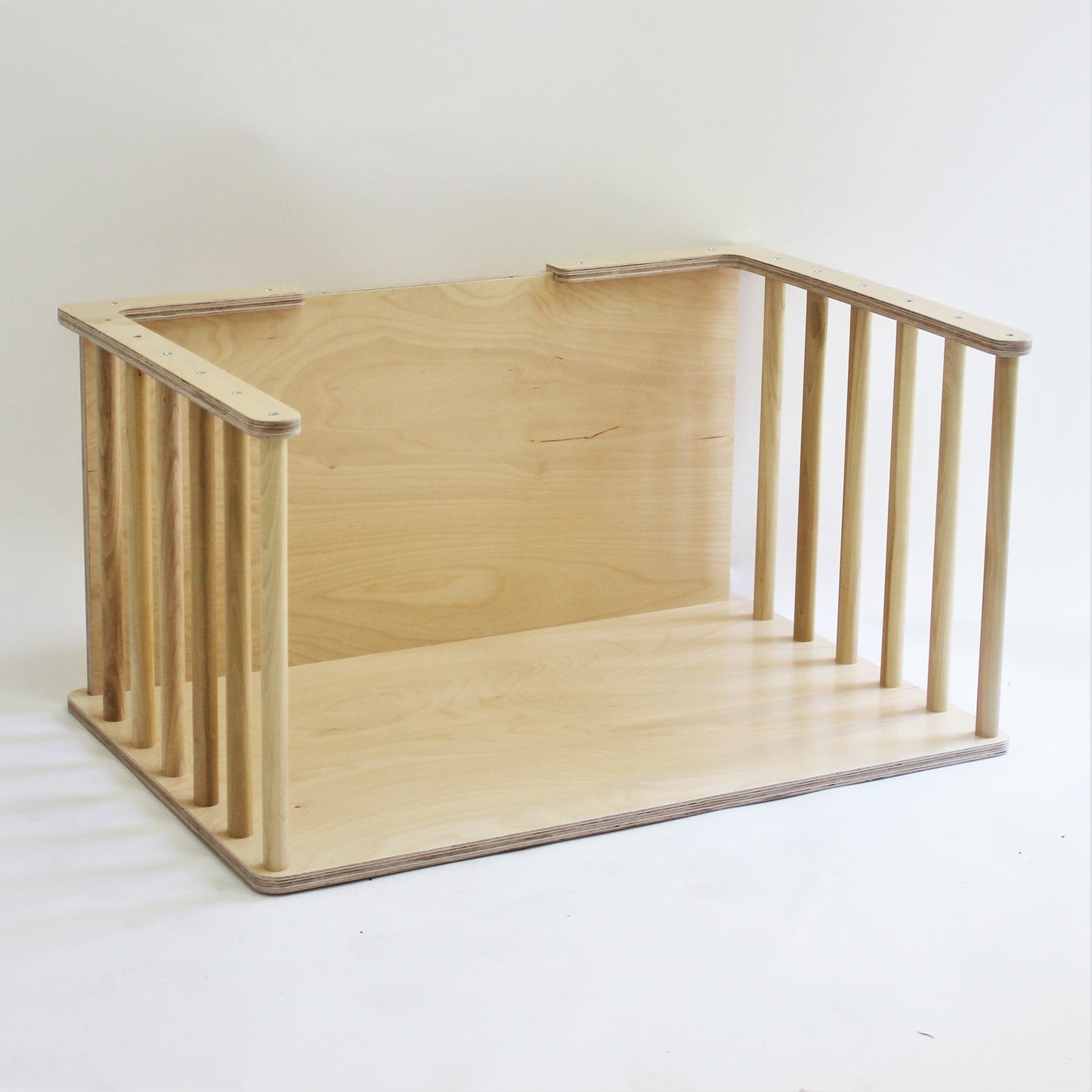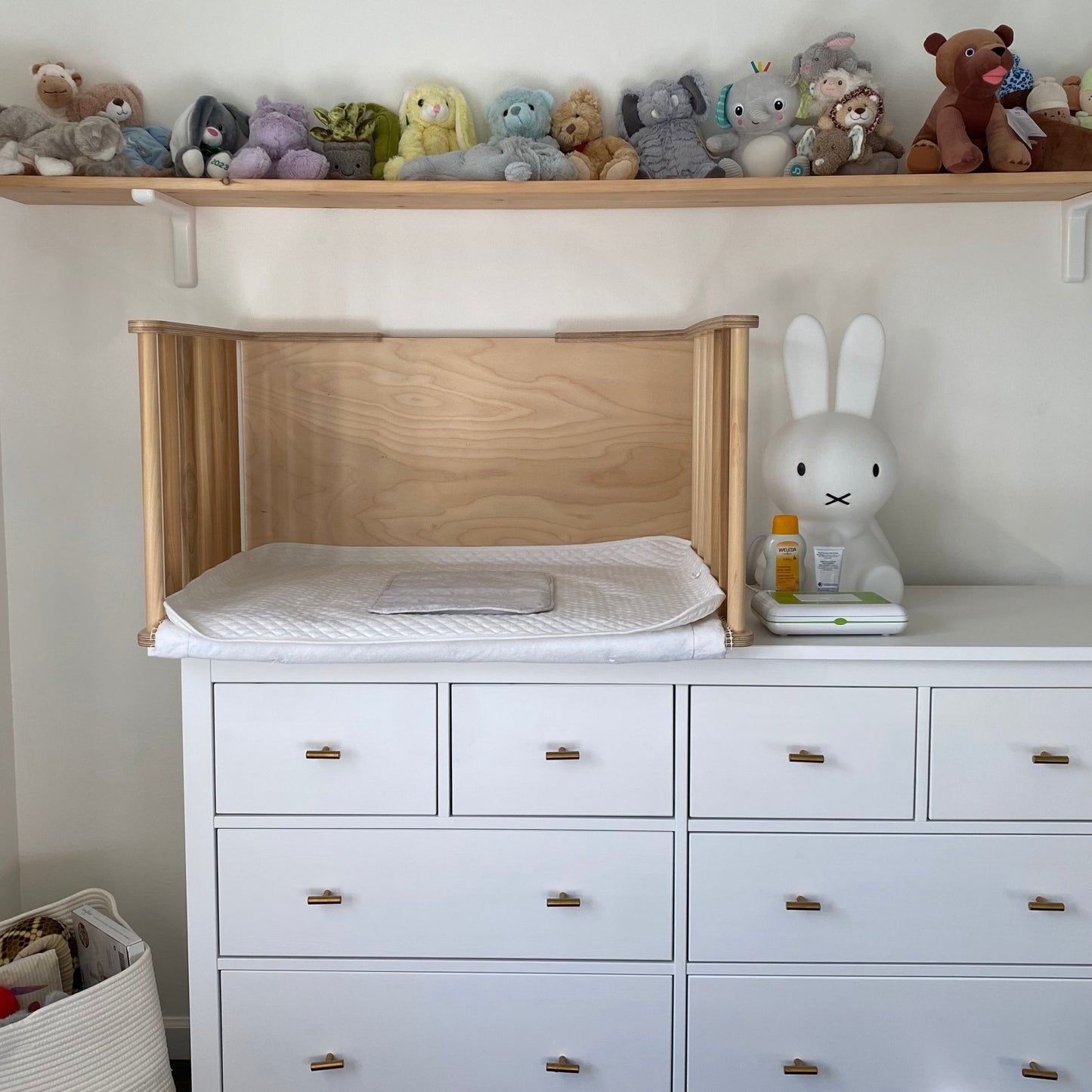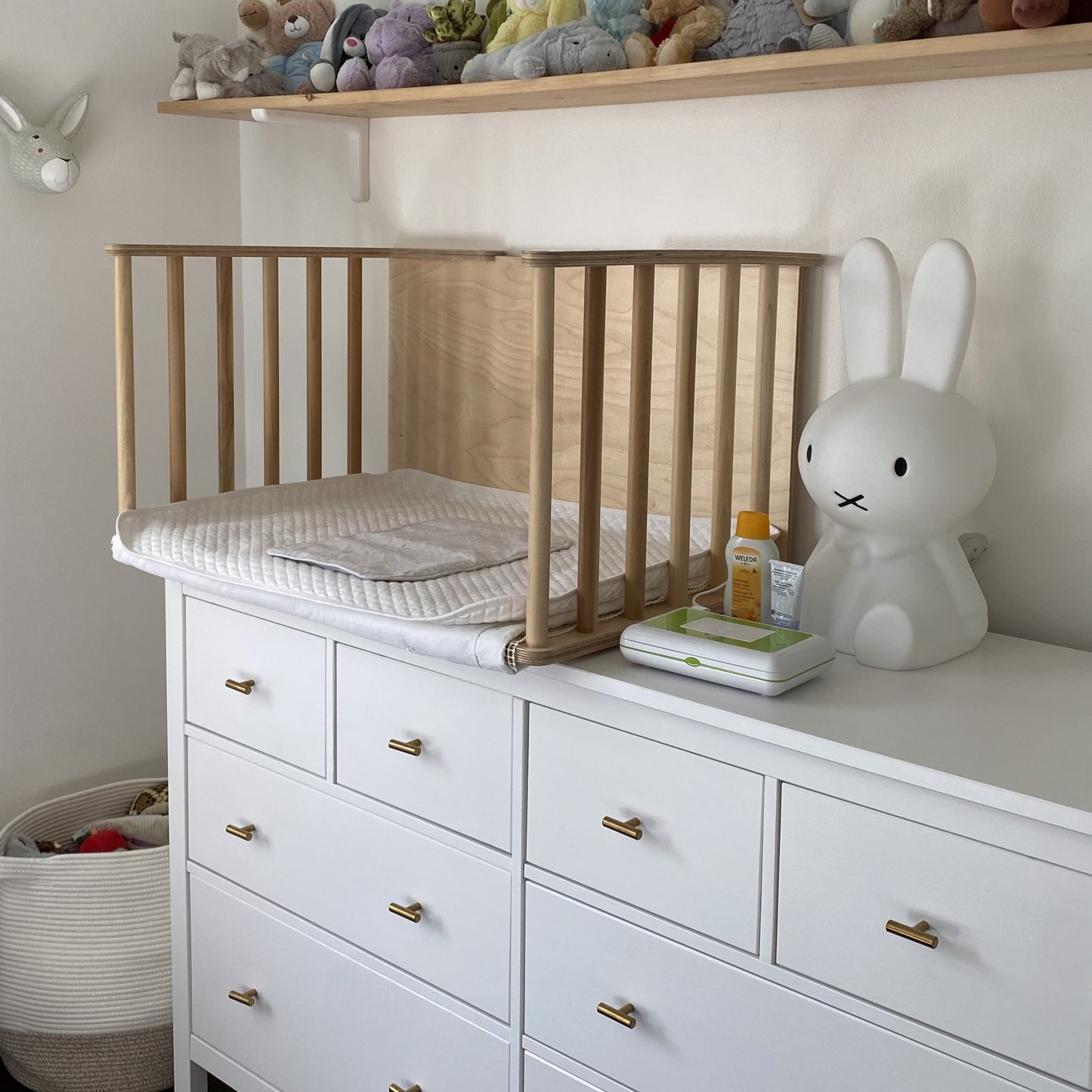 With the child, not to the child
Description

Our Changing Table promotes autonomous self-care for children from birth. Designed to encourage active participation in the diaper-changing process, it provides a safe space for your child to move and explore.

The changing table comes with a barred fence framing three sides of the table. The high fence, which reaches up to about chest-height of the child, provide a secure surface for a child seeking to find their balance to hold onto. The frame provides safety while allowing free movement, creating a clear space for the child to move in and participate in the diaper-changing or dressing process in the position of their choosing. This creates positive care experiences and strengthens the bond between caregivers and children.

For hygiene and comfort, we recommend placing a flat pad (not included) that matches the dimensions of the table. This provides a comfortable and sturdy surface for the child.

If using on top of a cabinet or dresser, make sure to securely attach the changing table to prevent tipping. Never leave a child unattended when in use.
Dimensions

Outside: 35.25"(L) x 23.5"(W) x 18.5"(H)
Changing Area: 32.25"(L) x 22.25"(W)
Materials

Made from 13-ply Sustainable Formaldehyde-free Euro Birch which is both durable and attractive.

Sealed with a Zero VOC UV cured finish.

Some parts such as rungs and table legs are solid hardwood.
Shipping


Shipping estimates are when an item will ship. In general, domestic shipments are in transit for 2 - 7 days.Contiguous USA: Free Shipping on orders $200+

Los Angeles customers may choose to pickup from our shop. Select "Customer Pickup" during checkout to receive a discount on your order.Hawaii, Alaska, and Canada: Shipping calculated at checkout
Why RAD?
Made in USA

Ethical products start with responsible manufacturing.


Learn more about our company...

Fostering Growth

Our products are based on many early childhood philosophies such as Montessori, Pikler and RIE®

Nontoxic Materials

We use materials that are safe for your child and the Mother Earth.


Learn more about our materials...
Great for RIE parents
I have been wanting to find a Pikler style changing table in the US to no avail since my son was born in March of 2022, and I finally found one! This works great on the floor for us — our son who is about 16 months knows to walk to the "changing station" and just steps right up to the platform. It seems like he actually likes going in there! I love that I can change him in this perfectly contained space while he gets to be in whatever position he wants to. I have been getting used to changing his diaper while he's standing for a long time now and so this makes it so easy for me. He is also learning a lot about his body and cooperation in the process. The changing area has turned diapering into an even more wonderful shared activity that is always filled with smiles and even laughs. Thank you SO MUCH for making this!!
Only One of Its Kind in the US
This changing table is exactly what I was looking for, and I'm so glad RAD makes this. When I got pregnant, I knew I wanted a European-style/Pikler style changing table for my baby, and RAD is the only company in the US that makes this.
The construction is super solid, sturdy, and very high quality. We put it together at home, and the instructions were very clear and easy to follow.
I love that I can change my baby so that we're looking face to face. It's so much easier than doing it sideways like basically every other baby changing table device out there. When friends and family come over, they're always surprised by the changing table because they've never seen anything like it. Then they use it and realize how easy it is to use.
The depth of this is perfect for the dresser we got (IKEA Hemnes) to put it on top of. It hangs off the back a little bit, but it's so sturdy that it doesn't move anywhere. I love the height, too — no bending over to charge the baby and raising up with a sore back. You might need a shorter dresser if you're on the short side, say under 5'5".
My baby is now seven months old, and he is getting quite long. He would be too long for this soon depth-wise, but he's now moving and more mobile. Since he's mobile, he never lays straight on anyway. This changing table is designed so that your baby can move safely during diaper changes. He can turn over, roll, and eventually use the bars to stand up when he wants to.
I'm so happy I found this changing table and look forward to many more years of use.
I lost my money...
I'm just telling you that my baby is 4 months old and practically doesn't fit on the changing table.
Gladys - I'm sorry to hear that the changing table is not fitting the needs for your child. We do our best to meet dimensional standards of changing tables so that they can accommodate a majority of children. Of course every child is unique. In order for us to better understand and improve our changing table, would you be willing to provide some photos of the product in use and any additional feedback on how it fell short of your expectations? This would greatly help us in making sure that our products are meeting the needs of all our customers. Please feel free to reach out to us at info@RADchildrensfurniture.com or call 844-723-1234.
If you are not satisfied with your purchase, you may be able to return it for a refund or exchange. Our full return policy can be viewed here:
https://radchildrensfurniture.com/pages/return-policy